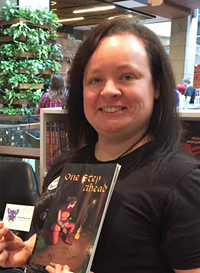 Naomi Hatchman is an Australian writer and illustrator with a slight obsession with shapeshifters.
She has published science fiction and fantasy short stories in Aurealis and Eidolon, and in the anthologies "Passing Strange", "Southern Blood" and "Midnight Echo #16".
She created a science fiction webcomic called Zeera the Space Pirate, which led to her interest in graphic novels.
At some point, Naomi decided on the possibly terrible idea of writing and illustrating a lot of graphic novels about shapeshifters. She is currently two books in and is working on a third.
If you want to see what she's up to, she has an art blog. Sometimes she also sells her books at events.